7.62-mm SVD
DRAGUNOV SNIPER RIFLE
TECHNICAL DESCRIPTION
AND SERVICE MANUAL
CONTENTS
INTRODUCTION
Technical Description and Service Manual of the 7. 62-mm Dragunov sniper rifle (SVD) is intended for studying the rifles and optical sights and keeping them in constant fighting ready for action.
This paper includes specifications and data of the rifle and optical sight design and operation, as well as main rules necessary to provide for the proper maintenance of the rifle with the sight and full using of their technical capabilities.
Since efforts are continuously made to improve the rifle and its completing articles, minor changes in the Technical Description may be introduced without special notice.
1. TECHNICAL DESCRIPTION
1.1. Purpose of rifle
1.1.1. The 7. 62-mm Dragunov sniper rifle is a sniper's weapon and is designed to destroy various single targets, which may be collapsible, moving, open and screened (Fig. 1).
The sniper optical sight is intended for precise aiming of the sniper rifle at various targets.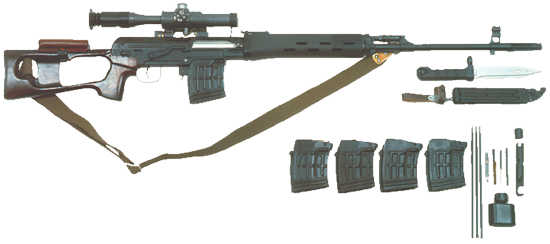 Fig. 1. 7.62-mm Dragunov sniper rifle with optical sight and knife bayonet:

1 - 7.62-mm Dragunov sniper rifle;
2 - sniper optical sight PSO-1;
3 - knife bayonet.


1.1.2. The sniper rifle uses rifle cartridges with ordinary, tracer and armour-piercing-incendiary bullets or rifle sniper cartridges. The fire is delivered in single shots.
1.1.3. The optical sight permits to conduct night firing at infrared sources and under bad conditions of illumination, when it is difficult to fire at targets with the open sight.
When observing the infrared sources, the rays radiated by the source pass through the sight objective and effect the screen, located in the focal plane of the objective lens.
In place of acting the infrared rays luminescence appears on the screen. It results in a visible source image in the form of a round greenish spot.

1.2. Technical data

1.2.1. For basic ballistic and design characteristics of the rifle and the rifle cartridge and for design data of the optical sight refer to Table No. 1.
Table No. 1
Characteristics
Nominal value
1. Calibre, mm
7.62
2. Number of rilling grooves
4
3. Sighting range, m:
with optical sight
with open sight
1300
1200
4. Muzzle velocity, m/sec
830
5. Killing range, m
3800
6. Mass of rifle
without knife bayonet,
with optical sight,
empty magazine
and cheek plate, kg
4.3
7. Magazine capacity, cartridges
10
8. Length of rifle, mm:
without knife bayonet
with adjoined knife bayonet
1220
1370
9. Mass of cartridge, g
21.8
10. Mass of ordinary bullet with steel core, g
9.6
11. Mass of powder charge, g
3.1
12. Optical sight magnification
4-fold
13. Field of sight vision, degree
6
14. Diameter of pupil, mm
6
15. Eye relief, mm.
68.2
16. Resolution, second
12
17. Length of sight
with eye shield and
advanced blind, mm
375
18. Sight width, mm
70
19. Sight height, mm
132
20. Mass of sight, g
616
21. Mass of sight
with SPTA set and slip cover, g
926
1.3. Rifle components
1.3.1. The set of the sniper rifle includes (Fig. 1):
sight PSO-1 - 1 pc.;
knife bayonet - 1 pc.;
carrier for a sight and magazines (Fig. 3) - 1 pc.;
bag for SPTA (Fig. 4) - 1 pc.;
sling for carrying small arms (Fig. 5) - 1 pc.;

1.3.2. The sniper optical sight is delivered complete with a slip cover (Fig. 6) and individual SPTA set (Fig. 11).


1.4. Design and operation of rifle




CONTENTS